If there's one thing you need to know about our chefs, it's this: They want to hear from you. If you have a question, a comment, a suggestion or a critique, let them know. They make a point of making themselves available in the dining halls, so feel free to walk right up and chat. And don't be surprised if they do the same.
Frank Turchan, Executive Chef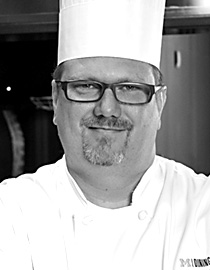 A master of his craft, Executive Chef Frank Turchan came from Detroit's elite kitchens to help elevate the culinary experience at Michigan Dining to new heights. Students, staff and guests at catered events benefit from his expertise in menu development and his creativity in designing special dining occasions. With a culinary arts degree from The Culinary Institute of America and training in New York, Chicago and Detroit, he shares his expertise via specialized training for the culinary team, one-on-one mentoring of chefs and oversight for all MDining kitchens. His experience in international and multi-concept dining has been key to the designs of the Central Campus Dining Center at South Quad, North Quad Dining and East Quad Dining. Chef Frank has a deep appreciation for the beauty of simple food — letting the ingredients shine and providing a uniquely memorable dining experience.
Nelson "Buzz" Cummings, Chef de Cuisine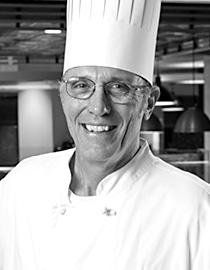 Chef Buzz (as he's known around campus) Cummings is a "salt of the earth" man. As a child, he loved goose liver and onion sandwiches. He cherishes memories of his grandma's country-style ham, mashed potatoes, homemade applesauce, wilted wild greens and rhubarb pie. He began working in kitchens when he was a teenager and received his professional training in the culinary program at Schoolcraft College. His cooking style has grown out of his belief in the fundamental goodness of foods as nature designed them, sustainability and healthy eating, Chef Buzz is the Chef de Cuisine at East Quad where he uses local farm ingredients in every dish and has a hand in EQ's onsite urban garden and Meatless Mondays menus. If he were not a chef, Chef Buzz figures he would have ventured into life as a farmer, carpenter and banjo player.
John Merucci, Chef de Cuisine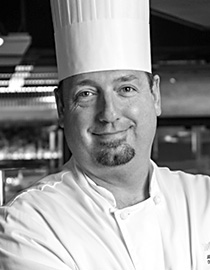 When it comes to cooking, Chef John Merucci is inspired by his Italian heritage. He loves bacon, rapini, and sea salt caramel gelato. When he took his first cooking class at Schoolcraft College, Chef John he knew he had found his lifetime career. After graduating, he worked in Michigan and California restaurants and in catering before serving as the executive chef at Michigan State University's Brook Lodge. Today, he serves on the Maize and Blue culinary team as the Chef de Cuisine at South Quad. There, he indulges in creativity and collaboration that comes with working in a multicultural environment. He enjoys the freedom of culinary trends at Michigan, with local foods and fresh ingredients at the base of every dish.
Jeremy Moser, Chef de Cuisine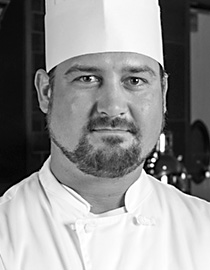 Since his first job at age 15 in a German restaurant, Chef Jeremy has immersed himself in contemporary global cuisines. He absorbs the culture and applies what he learns to recipe development. Chef Jeremy owes his culinary expertise to on-the-job training, chef mentors and formal training at Schoolcraft College. His food philosophy is simple: use fresh, local, seasonal and sustainable products to create well received dishes. His dream meal is a Chinese hot pot with an arrangement of locally grown meats and vegetables to simmer in the broth, along with a cold micro brewed sour ale from Jolly Pumpkin in Dexter, Michigan.
Eric Mughannem, Chef de Cuisine, Michigan Catering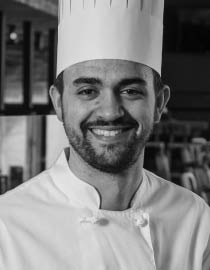 Chef Eric leads the culinary team and oversees catering at the Michigan Union. Most recently, Chef Eric worked at The Henry Ford in Dearborn where he managed both culinary operations for catering and the museum's casual dining restaurant featuring a menu inspired by ingredients from the Great Lakes region. His professional career also includes turns at fine dining restaurants Trattoria Stella in Traverse City, and Chandlers, Elevate and Cava in Petosky. From these experiences, Chef Eric has developed a passion for fresh ingredients, vegetable-centric cuisine and farm-to-table cooking.
Allan Sheldon, Chef de Cuisine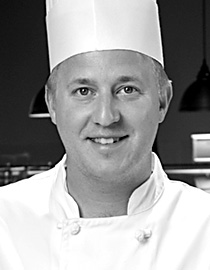 There's something about the South that draws Chef Allan Sheldon's attention; his favorite place is Key West. He ventured to Charleston, South Carolina for culinary training and a Food Service Management degree from Johnson & Wales University. But his heart is in Michigan. As Chef de Cuisine at the Hill Dining Center at Mosher-Jordan, he loves the grand scale of the operation, with walk-in coolers filled with fresh ingredients in the morning and emptied by night after an active day of cooking. Chef Allan thinks the students here are special and enjoys introducing them to new foods, especially those shaped by his Southern training.
Matt Zatirka, Chef de Cuisine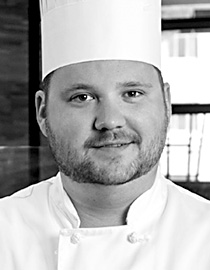 Chef Matt Zatirka has cooked for some of the largest gatherings in Detroit. At the Cobo Center, auto fans had a taste of his cuisine during the North American International Auto show. At Comerica Park, he catered food to baseball fans in the suites and Press Box, and even developed an appreciation for hot dogs. Now he creates memorable dining experiences through catering at The Michigan League, a beautiful setting where couples dream of having their wedding reception. With a culinary arts degree from Schoolcraft College and a Bachelor's in hospitality management from Eastern Michigan University, Chef Matt has perfected classic cooking techniques.  He believes in the goodness of basic foods and feels that Mother Nature has already done all of the hard work, so his goal is simply to not mess up her products.