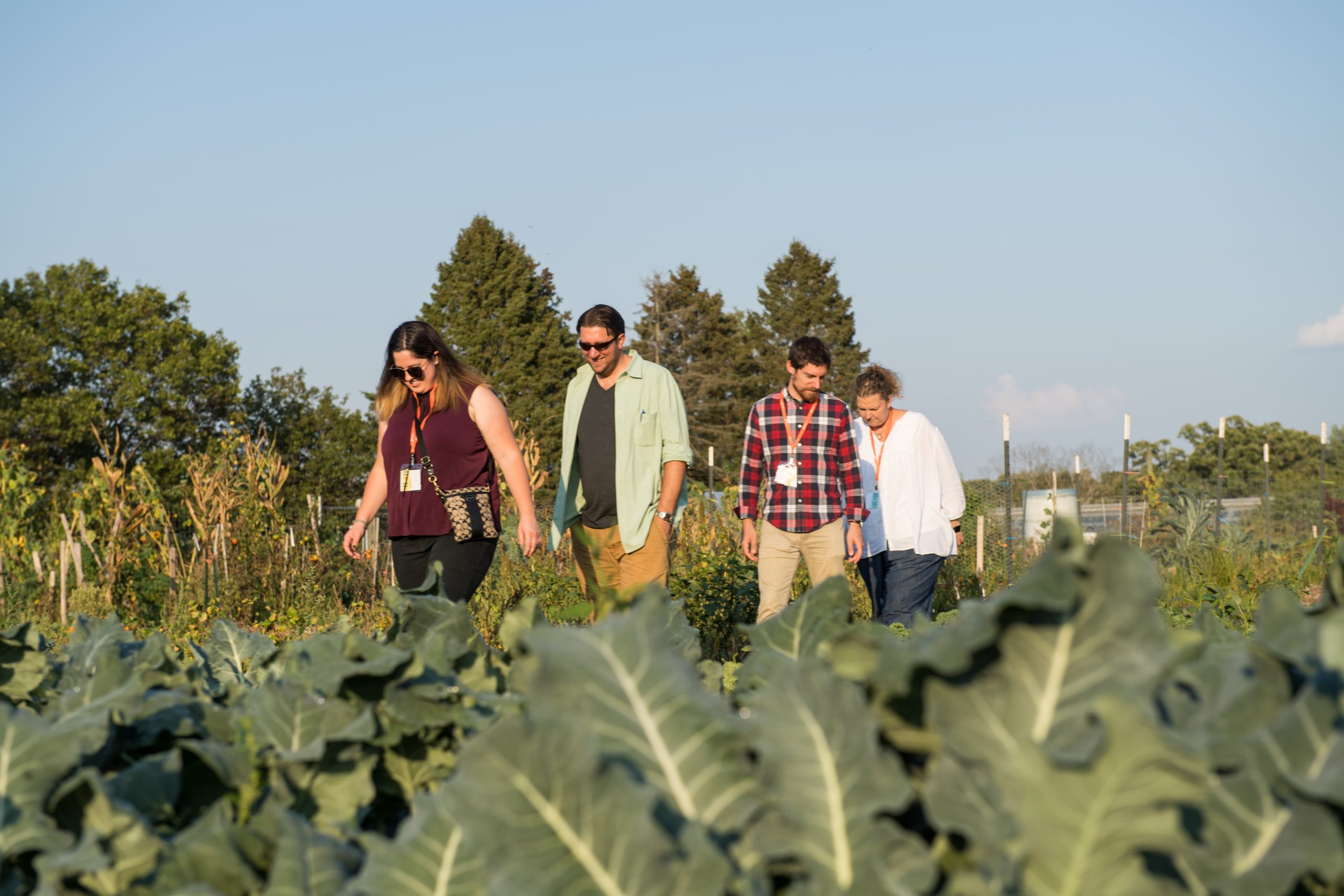 What we put on our plate adds up!
Choosing foods with small carbon footprints will play a big part in reaching our emissions goals. The University of Michigan is committed to achieving net-zero emissions from purchased power by 2025, eliminating direct, on-campus greenhouse gas emissions by 2040, and instilling a university-wide culture of sustainability.
Click "Learn more" to find out more about the University's carbon neutrality goals.
Learn More
Get Involved
Here are some opportunities to get involved in sustainability efforts around campus:
How do we calculate carbon footprint?
Check out this video from National Public Radio that follows the path of a bacon-lettuce-tomato sandwich from field to plate, calculating its CO2 emissions along the way:

Check out this article by Heller et al. (2013) that dives deeper into what life cycle assessment is and how it can be applied to understanding the environmental impacts of food.
And here's an article by Heller et al. (2018) that estimates the impact of U.S. diets on greenhouse gas emissions. The food impacts life cycle assessment database these authors developed is what MDining uses to calculate the carbon footprints of its menu offerings.
What You Can Do
Become a Planet Blue Ambassador!
Are you interested in learning about all parts of sustainability on campus? Then join the network of thousands of Wolverines who are Planet Blue Ambassadors and complete the Planet Blue Ambassador sustainability training!
Plant Based Menuing!
Eating more plant- based food is a great way to reduce your carbon footprint and you can find many delicious plant-based dishes throughout our dining halls and retail locations. Carbon Neutrality is a campus sustainability goal and Michigan Dining has worked with various constituents around campus to identify the carbon value of our menu items, increase plant-based foods and plant-based proteins into our menu. Check out Sustainable Mondays to see how you can live into the Carbon reduction work on campus. Food Savvy Fridays, a student led blog features ideas on how you can eat healthy while contributing to sustainable initiatives on our campus.
Kick the Plastic Bottle Habit.
Use the water refill stations around campus to fill your Planet Blue water bottle. There are more than 300 refill stations across campus. Michigan Dining also offers reusable coffee mugs at our retail locations, so pick one up at a café or market near you!
More about What You Can Do
Eat More Local Foods.
Look for foods that are from local sources. Signage in Michigan Dining halls (and many cafés & markets) will help you make these decisions.
Recycle.
Make sure that cups, cans, and food containers find their way to the recycle bin. Here are some tips to recycling at Michigan.
Compost.
Make sure that compostable packaging and food waste goes in the compost bin, and any questionable waste goes in the landfill bin. Cross-contamination can taint compost bins very easily! Here are some tips for composting at Michigan.
Reduce Your Food Waste.
Customize your dining hall meals, and if you'd like some more food, Just Ask! Take what you'll eat and eat what you take.
Look for the "Know Where To Throw" information throughout campus to help you sort waste into the appropriate container. The campus waste reduction goal is to reduce waste sent to landfills by 40% by 2025.
Get involved.
Join a sustainability student organization or get involved however you can. Even small actions can make a big difference! Michigan Dining works with Planet Blue Student Leaders, the U-M Sustainable Food Program, the U-M Campus Farm, and many more student organizations.