Steve Giardini, Senior Director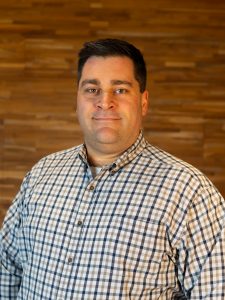 Throughout his career, Steve Giardini has always put the guest experience and food quality first in line.  Caring for guests, staff, the environment and community is paramount to hospitality and guides Steve's thought process at Michigan Dining.  Steve brings over 14 years of food service experience in a variety of roles with Aramark & Sodexo. Originally from the Philadelphia area, Steve holds a Bachelor's degree and MBA from University of Delaware where he is an active alumni engaging with students about their future hospitality careers.
Steve brings global work experience to Michigan through his experience at the Olympic Games with Aramark in Athens and London as well as his four years leading the food & beverage program for Aramark's Leisure group serving National & State Parks, cultural attractions, and conference centers, including the Ross School of Business!  During this time Steve partnered with farmers across the country to increase local purchasing of fresh fruits, vegetables, meat, and poultry to serve guests. Steve has also been part of successfully launching sustainability and composting programs across a number of locations.  
During his most recent career stops, Steve led operational excellence and menu design and development for over 1400 locations nationwide, including over 200 colleges and universities across the country.  Increasing plant-based offerings and keeping flavor fresh by focusing on food trends in the industry, Steve was able to increase the number of vegetarian and vegan offerings and raise customer satisfaction scores while increasing team member productivity.  
As the new Senior Director, Steve plans to continue the great work of Michigan Dining, focusing on providing the best student experience.  Enhancing partnerships with students, the University and local communities will continue to allow Michigan Dining to be a leading dining program that the University community can be proud of. 
Kathryn Whiteside, R.D., Director of Systems Management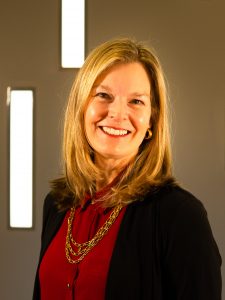 A Registered Dietitian for more than 20 years, Kathy oversees food service operating systems and support services including nutrition, information technology, meal plan administration, and standards. Kathy manages a team of Registered Dietitians, nutrition students, and interns and administers the MHealthy Program for Michigan Dining.
Additionally, Kathy has extensive experience as a production manager, including menu planning, inventory, and purchasing. In previous roles as a rehabilitation dietitian and clinical dietitian, Kathy designed special menus, provided nutrition consultations, and developed training and outreach classes in nutrition and clinical diets.
Over the past year, Kathy has been working with Food Allergy Research and Education (FARE) on a national level to develop guidelines for managing food allergies in higher education. She earned a degree in Dietetics from the University of Northern Colorado.
Keith Soster, Director of Student Engagement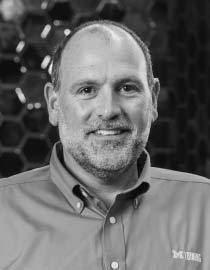 At the core of Keith's work is outreach, putting him in constant contact with students, suppliers, and campus stakeholders with a focus on advancing initiatives for a greener, healthier campus. He is responsible for student and community connections both on and off campus and serves as the sustainability lead for Student Life. In this capacity, he oversees programs in buildings accounting for nearly one-fifth of the square footage of the University of Michigan Ann Arbor campus.
Keith frequently sponsors student projects and serves as an adviser to both the University of Michigan Sustainable Food Program and the Michigan Dining Food Advisory Committee. In the past, he's teamed up with students to pilot the Go Blue Box program, bring local produce to campus through Farm Fresh Wednesdays at the Michigan Union, and hold M Farmers' Markets in collaboration with Central Student Government.
A sought-after expert on sustainable food topics, Keith has presented on food trends at the Big Ten Union's Director Conference and the National Association of College Unions International, as well as the National Association of College and University Food Services and the Ann Arbor Local Food Summit. He has over 30 years in the hospitality industry including positions at the Toledo Zoo and T.G.I. Friday's, where he was responsible for catering, restaurant general management, kitchen management, and corporate field training. Keith is a graduate of Bowling Green State University.
Jennifer Tober, Director of Retail
Jennifer Tober joined our Michigan Dining team as our new Director of Retail Operations. Jennifer is a Michigander and a graduate of Central Michigan University.  She has extensive experience with retail chain operations as a manager and owner.  In previous roles, she served as a Field Consultant, District Manager, and General Manager, entrusted with overseeing the strategic plans for continued regional branch success, both in financial growth and multi-district operational planning. This top-level strategic coordination experience has equipped her with the client, procurement, operational enhancement, product management, and market forecasting skills needed to excel as our new Director of Retail Operations. She is excited to take her operations management experience and use it to further the student experience in the higher education environment. In her free time, Jennifer enjoys spending time with her husband and two children and being involved with their school and extracurricular activities.
Amanda Ewing, Director of Diversity and Inclusion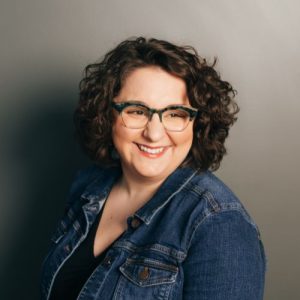 Amanda is a Diversity, Equity, and Inclusion (DE&I) educator and facilitator. She has a range of experience in DE&I programming and specializes in creating and delivering curriculum that uses storytelling and creative skills for engaging in memorable learning experiences. In her role as Director of Diversity and Inclusion for Michigan Dining, Amanda's work falls into three major categories: education, consultation, and coaching. Amanda provides professional development opportunities to staff and leadership, advises on DE&I incidents and strategy, and provides individual guidance to leadership and management. Because she is embedded in Michigan Dining, Amanda also serves as a bridge between Dining and the larger Student Life DE&I planning process. Amanda believes that the most influential work is created by, for, and about our community – which means she values transparency and collaboration. If you'd like to collaborate with Amanda she is available as a resource at ewingam@umich.edu.
Frank Turchan, CEC, Campus Executive Chef – Residential Dining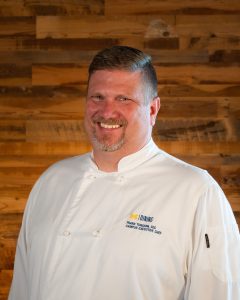 Frank Turchan is the executive chef for Michigan Dining. He oversees 20 chefs engaged in culinary operations for all campus dining halls, cafés, markets, and catered events. Chef Frank is fueled by culinary creativity and can often be found working on new recipes, researching new trends, or challenging his chefs to hone their skills.
Frank is also a strong advocate for sustainable food sourcing. As a result of Frank's work, U-M is the first Big Ten university to be Marine Stewardship Council Certified. His dedication to local farmers has led to an expansion in U-M's local food buying strategies and more Michigan-fresh food for the U-M community.
Frank graduated from the Culinary Institute of America and went on to work in a number of high-profile restaurants, country clubs, and hotels. Before coming to Michigan Dining he served as executive chef at the Fairlane Club in Dearborn and the Ford Motor Company Conference Center.
Devon Janks, Director of Catering Operations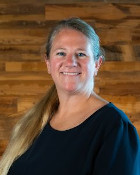 Devon Janks has been making visions and dreams come to fruition for over 15 years. Before becoming the Director of Catering Operations, she held the Director of Catering position at the Ann Arbor Marriott at Eagle Crest Resort. Devon has had the opportunity to work all over the United States at various AAA Four Diamond resorts. These opportunities have not only allowed her to grow in her career but also expand her love and passion for catering. Devon graduated with a Bachelor of Science in Resort Management from Green Mountain College in 2005. While in attendance she was a member of the Collegiate Ski and Soccer Team. During her senior year, she held the title of Captain for both sports along with earning NCAA All-American Soccer recognition. Devon enjoys playing ice hockey and coaches high school ski racing in her spare time.
Gina Mouch, Senior Training Specialist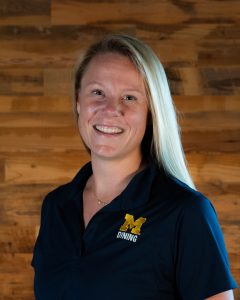 Gina serves as the Senior Training Specialist for M|Dining. Her role encompasses the implementation of compliance and professional development training for professional, bargained-for, and student staff. She is a Michigan native who attended Central Michigan University to earn her bachelor's and master's degrees. Gina's graduate studies focused on Training and Development with a specific focus on Adult Learning Theory. She strives to bring her energy and previous classroom teaching experience to meet training needs. Since, 2018 she has implemented an onboarding program, online learning and tracking system, and student hiring initiatives. She is certified in Crucial Accountability training and works to bring a sense of urgency to practice professional and personal accountability in all staff. While not in the office she enjoys exploring the outdoors through distance trail running, hiking with her dogs, and camping.
Kelly Guralewski, Marketing Manager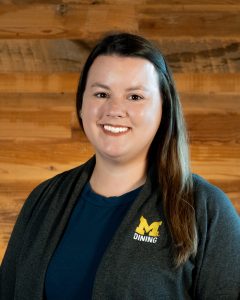 Kelly serves as the Marketing Manager for Michigan Dining. In this role, she supports the Maize and Blue Cupboard, residential, retail, catering, and sustainability teams with marketing and communication strategies. Kelly also collaborates closely with the University of Michigan's Student Life Marketing and Communications team to implement large-scale brand development. Kelly is a graduate of Northwood University where she earned her Bachelor of Business Administration and double majored in marketing and business management. Since joining the Michigan Dining team Kelly has developed the marketing team to consist of two additional professional staff members and five to ten marketing students who help drive consistent messaging and an enhanced guest experience in every location. In her free time, she enjoys spending time with her family and volunteering with Alpha Chi Omega.