Steve Mangan, Director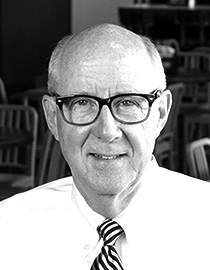 Michigan Dining Director Steve Mangan leads one of the nation's largest college dining operations, including nine dining halls and 24 markets and cafés located across the Ann Arbor campus.
With a staff of over 300, Michigan Dining consistently delivers high quality food and dining experiences for students and guests in partnership with University Housing, University Unions and Conference and Event Services. Since Steve's arrival in 2014, Michigan Dining has launched four renovated dining halls and cafés, improved menu offerings, increased revenues to support dining investments, elevated student involvement and achieved ambitious sustainability goals in local food procurement, composting, recycling and waste reduction.
His expertise comes from three decades in the food service industry—first as a chef and restauranteur, and later in leadership roles at three Big Ten colleges. His successes come through a philosophy of meeting customers' needs, working collaboratively with his team and creating a culture of innovation.
Prior to joining Michigan Dining, Steve served as Resident District Manager supervising the campus dining program of Northwestern University in Evanston, Illinois. During his tenure, he brought the residential and retail dining programs together in unified management, created new partnerships, led new sustainability efforts and improved culinary professional development.
Serving as General Manager at Indiana University's Indiana Memorial Union, he brought great food to varied venues and helped students explore new tastes and experiences in dining.
Steve holds a B.S. in Psychology from Michigan State University and an A.O.S. in Culinary Arts from the Culinary Institute of America. He is recognized as a contributor in his profession and his community, including working with The Hoosier Hills Food Bank in Bloomington, Indiana and LIFT Chicago to combat poverty and expand economic opportunity.
He resides in the Ann Arbor area with Betsy, his wife of 40 years, and together they enjoy the outdoors, bicycling, fine dining and exploring Michigan.
Frank Turchan, Executive Chef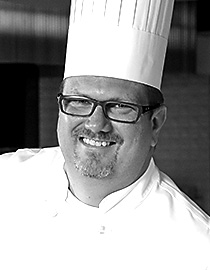 Frank Turchan is the executive chef for Michigan Dining. He oversees 20 chefs engaged in culinary operations for all campus dining halls, cafés, markets and catered events. Chef Frank is fueled by culinary creativity and can often be found working on new recipes, researching new trends or challenging his chefs to hone their skills.
Frank is also a strong advocate for sustainable food sourcing. As a result of Frank's work, U-M now partners with Sea to Table and is the first Big Ten university to be Marine Stewardship Council Certified. His dedication to local farmers has lead to an expansion in U-M's local food buying strategies and more Michigan-fresh food for the U-M community.
Frank graduated from the Culinary Institute of America and went on to work in a number of high-profile restaurants, country clubs and hotels. Before coming to Michigan Dining he served as executive chef at the Fairlane Club in Dearborn and the Ford Motor Company Conference Center.
Patrick Schmid, Director of Retail Operations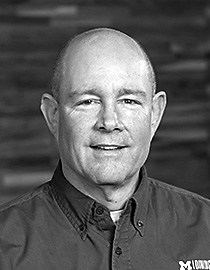 Patrick Schmid joined Michigan Dining in 2010 and was promoted to Director, Retail Operations in 2014. Patrick works closely with the management team in all areas of our retail program and has had a key role in improving systems, employee relations and product offerings. Prior to joining Michigan Dining, Patrick had a 30-year career with Meijer, rising to the level of store director. To gain the experience necessary to manage a large Meijer operation, he worked his way up from entry-level positions and everything in between, showing progressive skills and ability.
Kathryn Whiteside, R.D., Director of Systems Management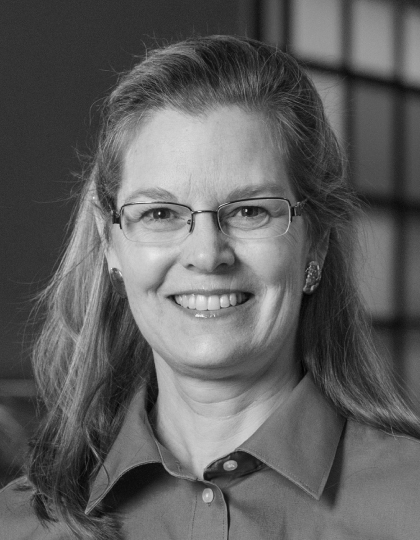 A Registered Dietitian for more than 20 years, Kathy oversees food service operating systems and support services including nutrition, information technology, meal plan administration and standards. Kathy manages a team of Registered Dietitians, nutrition students and interns and administers the MHealthy Program for Michigan Dining.
Additionally, Kathy has extensive experience as a production manager, including menu planning, inventory and purchasing. In previous roles as a rehabilitation dietitian and clinical dietitian, Kathy designed special menus, provided nutrition consultations, and developed training and outreach classes in nutrition and clinical diets.
Over the past year, Kathy has been working with Food Allergy Research and Education (FARE) on a national level to develop guidelines for managing food allergies in higher education. She earned a degree in Dietetics from the University of Northern Colorado.
Lindsay Haas, R.D. Culinary and Nutrition Support Specialist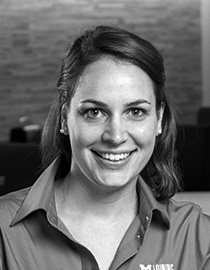 Lindsay has been a Registered Dietitian with Michigan Dining since 2013, and was an intern on our staff before coming on full time. She is responsible for maintaining the ingredient and recipe database that informs students about food offered in campus dining halls and retail stores and at catered events. The database, with 10,000 recipes using 40,000 ingredients, is utilized by University of Michigan chefs who prepare a daily variety of dishes, including gluten-free, halal, vegan and vegetarian. She counsels students with allergies and food sensitivities who need help planning meals and choosing appropriate dishes from Michigan Dining menus. Lindsay received her Masters of Public Health, Human Nutrition and Dietetics from the University of Michigan. She has a B.S. in Biomedical Science from Grand Valley State University.
Keith Soster, Director of Student Engagement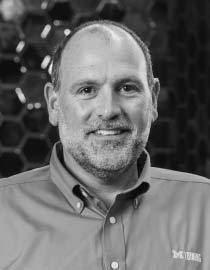 At the core of Keith's work is outreach, putting him in constant contact with  students, suppliers and campus stakeholders with a focus on advancing initiatives for a greener, healthier campus. He is responsible for student and community connections both on and off campus, and serves as the sustainability lead for Student Life. In this capacity he oversees programs in buildings accounting for nearly one-fifth of the square footage of the University of Michigan Ann Arbor campus.
Keith frequently sponsors student projects and serves as an adviser to both the University of Michigan Sustainable Food Program and the Michigan Dining Food Advisory Committee. In the past he's teamed up with students to pilot the Go Blue Box program, bring local produce to campus through Farm Fresh Wednesdays at the Michigan Union, and hold M Farmers' Markets in collaboration with Central Student Government.
A sought-after expert on sustainable food topics, Keith has presented on food trends at the Big Ten Union's Director Conference and the National Association of College Unions International, as well as the National Association of College and University Food Services and the Ann Arbor Local Food Summit. He has over 30 years in the hospitality industry including positions at the Toledo Zoo and T.G.I. Friday's, where he was responsible for catering, restaurant general management, kitchen management and corporate field training. Keith is a graduate of Bowling Green State University.